DMP presents:
Another Sunday Afternoon at Dingwalls
Gilles Peterson & Patrick Forge Present Another Sunday Afternoon at Dingwalls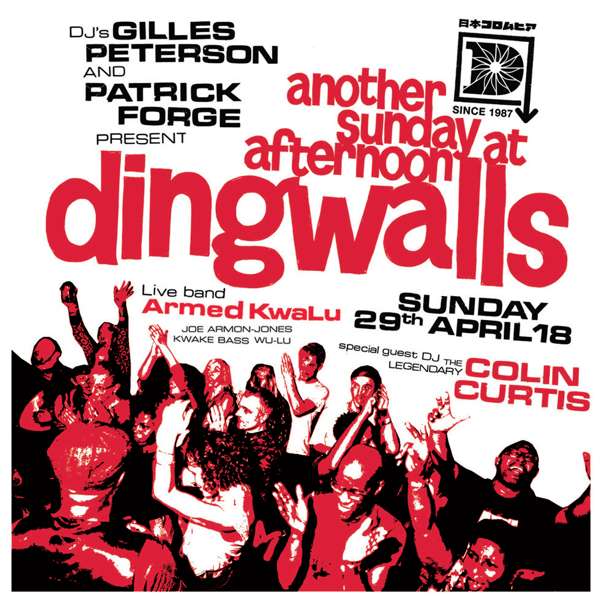 Another Sunday Afternoon at Dingwalls Sunday 29th April 2018 Dingwalls Camden Lock 12.30 - 7.30pmish (yeah right) Early Advance Tickets: £22 2nd Release Advance Tickets: £24 Ticket Holders are asked to arrive before 2pm to guarantee Entry Limited tickets on the door Late afternoon tickets will be sold on the door A one out one in policy will also be used
A Celebration of the Legendary Talkin' Loud and Saying Something Sessions "Talkin Loud and Saying Something" or just "Dingwalls" as it was more commonly known was the session that shaped a generation, in sound, style and attitude it's influence spread far and wide. It was the counterpoint to the rave generation's acid revolution, taking that same spirit and optimism and applying it to a very different music. It built on the legacy of the Electric Ballroom and the jazz-dance scene that had been bubbling away since the early eighties but took things to a new level. It became the touchstone for everything that followed in it's wake, acquiring legendary status, tempting folk to later claim that "I was there" whether they were or not. It was inspirational, revolutionary, celebratory, radical. It was a family, it was a congregation. It was our Paradise Garage. This event has once again reached out and tapped into all that was special and every year it becomes more and more legendary.
Line Up
Gilles Peterson & Patrick Forge Present Another Sunday Afternoon at Dingwalls