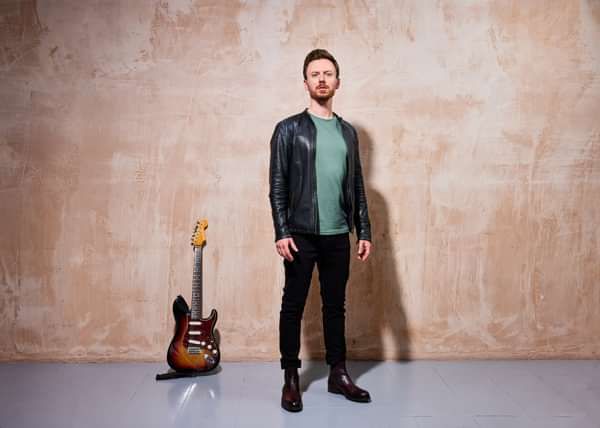 Raised in the rural market town of Newbury; rapidly rising Singer-Songwriter Joe Hicks blends intricate guitar composition and soaring falsetto with classic pop song-craft. Having made a name for himself as a session guitarist, Hicks released his first solo single at the start of 2017 following a soul searching writing trip to a secluded Cornish Airbnb garage with no internet or phone signal. Since then, the Joe has built up a sizeable online following (+4 million Spotify Streams), was made 'BBC Introducing Artist of the Week' across the U.K Radio, had new single 'Sail Away' played on BBC Radio 2 and toured the UK and Europe, including appearances at CarFest, the Big Feastival, Are You Listening? Festival, Pub in the Park, over 30 Sofar Sounds shows and slots supporting Sam Fender, Seafret, James Walsh and Starsailor.
Joe's critically acclaimed debut album 'The Best I Could Do at the Time' (23.09.22) was recorded at Studio 91, Newbury with producer Sam Winfield (Amber Run, Only Sun, Robin Trower). Quotes:
"This guy is absolutely smashing it, we can't wait to see what's next for him!" - Linda Serck, BBC Introducing Berkshire
"A beautiful track" - Reverend Kate Bottley, BBC Radio 2
"A performer not to be missed" - Manchester Evening News
"A highly individual musical identity, fusing pop with R'n'B, gossamer melody with liquid guitar work" - CLASH Magazine
'Relatable, earnest, and tinged with optimism' - Music News
'Unique blend of folk-infused pop' - Fortitude Magazine "Bluesy pop at its best" - Blues Matter Magazine
Social Links:
Website: https://joehicksmusic.com Instagram: http://instagram.com/joehicksmusic/ Facebook: http://facebook.com/joehicksmusic Twitter: http://twitter.com/joehicksmusic Spotify: https://spoti.fi/2ssG0wL Apple Music: https://apple.co/2DruNgQ Soundcloud: https://soundcloud.com/joehicksmusic/ Youtube: https://www.youtube.com/c/joehicksmusicuk Bandcamp: https://joehicksuk.bandcamp.com
ALBUM: STREAM
Line Up
Raised in the rural market town of Newbury, Berkshire; English Singer-Songwriter Joe Hicks blends blues, funk, folk and pop influences, combining intricate guitar composition with classic pop song-craft. Having spent his earlier years as a guitar player in numerous different projects following a childhood of classical training, Joe released his first solo single 'Best Clothes' at the start of 2017. Soon after the release of 'Something in the Water' in April, the 26 year old was made 'BBC Introducing Artist of the Week' on the regional 'Georgey Tonight' radio program, receiving extensive airplay across the U.K. Third single 'Talk to Me' dramatically increased Hicks' audience, being playlisted heavily on Spotify and Soundcloud collections around the globe. Included in Sofar Sounds 'Best of 2017 Worldwide' Spotify playlist following acclaimed Sofar performances and fresh off the back of extensive BBC Introducing Radio support for his two latest singles 'Burning' and 'Sign', Joe plans to spend the bulk of 2018 gigging across Europe, with a string of exciting dates already announced.
"Left alone to his own devices, Joe Hicks was able to build a highly individual musical identity, fusing pop with R'n'B, gossamer melody with liquid guitar work. Releasing his debut single earlier this year, the songwriter has quickly developed a rabid following, with his keening melodies searing their way into your subconscious. New cut 'Burning' certainly won't do him any harm, with Joe Hicks rising to the challenge again and again. A superbly compact return, it's bolstered by those choppy guitar licks and the purity of the delivery." CLASH Magazine 02.11.17
View Profile