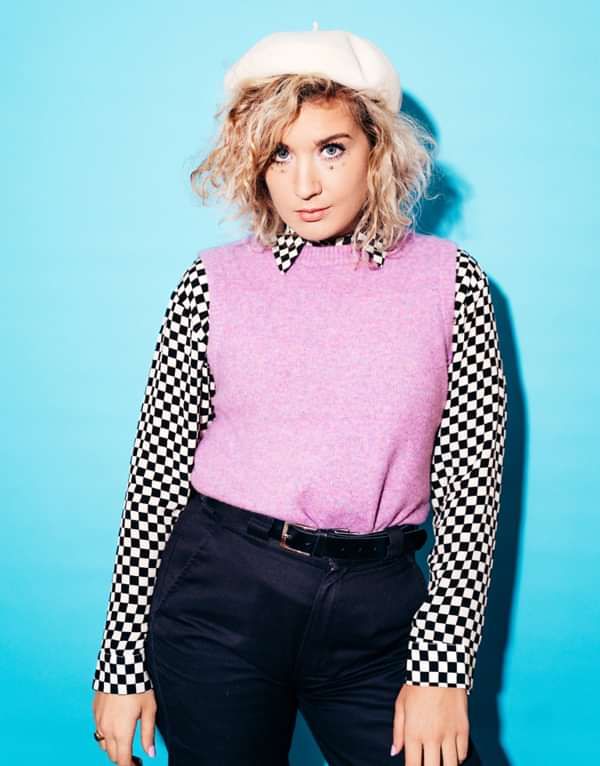 *Saddies EP * Dutch indie folk sensation releases EP with sad bangers and a solid amount of self-mockery. You won't believe it, but the most played music spinning on Dutch singer-songwriter Judy Blank's record player is Motown: uplifting soul with a bittersweet edge, often buried under layers of festive brass tones. Depressed, danceable disco. Her favorite song is "Tears of a Clown", a classic released by Smokey Robinson in the sixties. The concept of this song inspired her new EP "Saddies", because simply, life is not always a party.
After an unexpected mental breakdown last Summer, Blank's endless wild plans and big dreams vanished for a while. As time went on, her eternal optimism melted away and gave way to the rudiments of burnout. The zest of life was hard to find and the lack of perspective painted every day a darker shade of gray. Eventually, light was shed from a familiar corner. After her first dark period, fragments of songs came to fruition. Verses and melodies started flashing by as she sat dizzy at her piano, trying not to hold back and finally admitting: "I'm not okay." Songwriting proved itself as free therapy. Slowly she acquired a collection of new songs with darker themes: mental pressure, anxiety, FOMO. Blank produced ''Saddies'' herself, under the watchful eye of experienced indie producer Roy van Rosendaal (Figgie, Le Motat, Nonchelange). All six songs were recorded in his studio, which is ironically located in a former mental health institution. Despite the weighty themes, the shimmering folk tunes do not sound heavy, but rather playful, light and dreamy. Each song describes a relatable struggle and encapsulates it in its own universe, with a hint of self-mockery and plenty of party favors. And with success: the sarcastic first single, ''Karaoke'', exploded on Dutch radio while she was in Mexico herself. The remaining tunes will be released this Spring… on a pastel colored cassette tape.
Blank states, "Life is far from perfect. The world is not always easy to understand. It's okay to be sad sometimes. I think I'm almost there, although I don't always believe it myself."
''Saddies'', inspired by crybabies like Nick Drake, Christian Lee Hutson, Julia Jacklin and Smokey Robinson (along with every other Motown singer that has ever lived) is now out on V2 Records.
Links
Instagram, Facebook, Twitter, TikTok: @judyblankmusic Karaoke video: https://youtu.be/Jmv6P9VSy64 Mary Jane video: https://www.youtube.com/watch?v=QgkSGLmt-po
Spotify: https://open.spotify.com/artist/2Kqa4BYcpEq4KXX9fYmRpH?si=kRgfLahsT- K_mV4dVsIadQ
Line Up
If blue-eyed songstress Judy Blank would tell you she grew up in some one-horse-town in Louisiana, you'd probably believe her. But nothing could be further from the truth. Hailing from Utrecht, The Netherlands, the 24 year old singer-songwriter is not afraid fuse musical genres, influenced by several pilgrimages across the southern United States. On her new LP Morning Sun, a 70's inspired coming-of-age confessional that she recorded with Chris Taylor (Rival Sons, Dylan LeBlanc, The Wood Brothers), she effortlessly mixes traditional folk and groovy americana. From the green-eyed soul of her hit single "Mary Jane" to the jagged-edged ballad of "Tangled Up in You", she can hit all the notes. Even living legends praise her songwriting skills; her song '1995' was called a favorite by none other than Sir Elton John.
''This girl sang some songs that made my heart drum. If she was anywhere around me, I'd go see her ev'ry night.'' - Seasick Steve
View Profile