FUTURE JUKE: A 21ST CENTURY BLUES FESTIVAL presents:
King Solomon Hicks
+ Toby Lee
Buy Tickets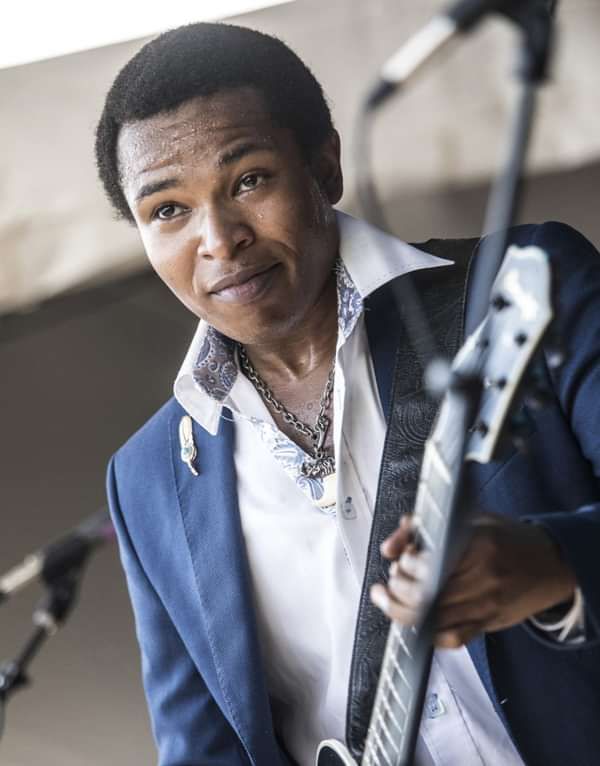 King Solomon Hicks has announced his debut album, 'HARLEM', which will be released on 13th March, 2020 via Provogue, a division of Mascot Label Group. You can pre-order the album here
The 24 year old grew up in Harlem "around a lot of great musicians," he says. The city is synonymous with vibrancy, art and music ever since the Harlem Renaissance of the 1920s and 1930s. Situated in Manhattan, New York City, that period saw a creative surge sweep the neighborhood, which included writer and political activist Hubert Harrison, entertainer and civil rights activist Josephine Baker as well as the rise of legendary jazz players such as Duke Ellington who was one of the early performers at the now world famous Cotton Club. The Jazz scene was exploding with the likes of Louis Armstrong, Count Basie, Cab Calloway, Fats Waller, Billie Holiday, and Bessie Smith all coming through the city and that was just the tip of the iceberg. Whilst Harlem has been home to the greats such as Al Pacino, the Marx Brothers, James Reese Europe, George and Ira Gershwin, Arthur Miller, Sammy Davis Jr, Sonny Rollins…the list goes on. There's something in the water there.
Music runs through the veins of the city, so there was no doubt that the young Hicks, who was only 6 years old when he started playing the guitar, was going to absorb those surroundings. By 13 he was on the stage at the Cotton Club, four times a week, as lead guitarist in the clubs' 17 piece band and was already playing in legendary venues such as St. Nick's in Sugar Hill and the iconic Lenox Lounge which Malcolm X had been a patron, and had seen the likes of Miles Davis and John Coltrane grace the stage.
His full debut, 'HARLEM' is produced by multiple Grammy Award winner Kirk Yano (Miles Davis, Public Enemy, Mariah Carey), and showcases Hicks as a writer, player and interpreter. Originals such as the roadhouse ready '421 South Main,' the gospel shuffle of 'Have Mercy on Me' and the aching instrumental 'Riverside Drive,' he rubs musical elbows with staples such as "'Everyday I Sing the Blues' and 'It's Alright,' a Latin-tinged take on Blood, Sweat & Tears' 'I Love You More Than You Will Ever Know,' a funked-up romp through Gary Wright's 'Love is Alive' and a searing rendition of Sonny Boy Williamson's 'Help Me' that closes the album.
Hicks has been steeped in music for as long as he can remember. "It's not like New Orleans, where music is 24 hours a day -- but it's close." His mother also took him, as a youngster, to local nightspots, "when you're around good musicians, it gives you that spark -- 'I want to do what you do. I want to hold my own,'" says Hicks. "But being around those types of musicians also taught me to NOT be the fastest guitar player. I wanted to be the one who knew the most riffs and drew on a lot of knowledge so I could play anything, and with anyone."
He enrolled to the Harlem School of Arts and the prestigious educational program Jazzmobile, and while performing on his home turf, he also expanded to venues such as the Iridium, the Red Rooster, Ashford & Simpson's Sugar Bar, Terra Blues and more. After high school Hicks began playing in Europe, opening for Jeff Beck and Ringo Starr, playing festivals in Spain and France, as well as at the Cotton Club in Tokyo, and being booked on KISS Kruise V in 2017 and on this year's Joe Bonamassa Blues Alive at Sea Cruise. He's shared stages with the likes of Tony Bennett, Beth Hart, George Thorogood & the Destroyers, Mavis Staples, Paul Shaffer and others. He has also performed at the United Nations in New York City, for former Mayor of New York City, Michael Bloomberg, former Governor of New York David Paterson and during a New York Knicks game.
Since the 6 year old Solomon picked up the guitar, it has all led to this moment and that certainly shows on 'HARLEM', an 11-song salute to those roots -- and how the 24-year-old guitarist and singer has turned them into his own fierce and distinctive style. "This has been a long time coming," he says of his first major recording, "but I'm really happy with the sound and the way everybody played. This music is where I come from. It's really special to be able to record these songs -- and really important to get 'em right."
Hicks and Yano started working on HARLEM two years ago, finishing up during late 2019. "It was just about getting my own sound together," explains Hicks, who was aided by a corps of players that includes members of Soulive, Lettuce, Jack White and Hank William Jr.'s band and others -- including Foghat/Savoy Brown veteran Roger Earl "I didn't want it to be traditional," he says. "I wanted people to feel like they're in a juke joint, listening to what the blues sounds like in 2019, my own spin on it."
*Toby Lee * Dubbed a future superstar of the blues by Joe Bonamassa, 17 year old Toby Lee boasts an impressive musical CV. Toby's journey started at just 4-years-old when his Grandma bought him a yellow and green ukulele. This little instrument went everywhere with him and he played it constantly – mainly tunes by Elvis and Buddy Holly. When he was eight he got his first electric guitar for Christmas while staying at a hotel in Cornwall. By chance, staying at the same hotel was Mick Box from Uriah Heep. Mick gave Toby some great advice and some picks and from that moment, Toby knew exactly what he wanted to do when he grew up! Toby spent a year playing the role of Zack Mooneyham in the original Andrew Lloyd Webber West End production of School of Rock the Musical. He won an Olivier Award for "Outstanding Achievement in Music" with School of Rock. "It's a long way to the top if you wanna Rock n Roll" but Toby is definitely living the dream. He has appeared on many TV shows around the world including TFI Friday twice, Little Big Shots USA, Spain and the UK, Comic Relief, Michael McIntyre, The X Factor, Ant and Dec's Saturday Night Takeaway, Blue Peter and Tonight at the London Palladium where he performed with McFly. He jammed with Ronnie Baker Brooks at the Blues Heaven Festival in Denmark and the video went viral with over 115 Million views. Toby now has over 400 million views on social media. Toby represented the UK at the 2018 International Blues Challenge in Memphis – later that year he was announced as the Young Blues Artist of the Year at the UK Blues Awards. He was also featured in a television documentary called Child Prodigies. In 2019, he was flown to Los Angeles to appear on the Ellen Degeneres Show, where he performed and was interviewed by Ellen. Toby has shared the stage with a host of stars including Buddy Guy, Billy Gibbons, Peter Frampton, Slash, Lukas Nelson, Kenny Wayne Shepherd and has appeared alongside his hero, Joe Bonamassa at the Royal Albert Hall. He recently appeared on This Morning with Phillip Schofield and Holly Willoughby promoting his album "Aquarius" which reached number one in the Official Jazz and Blues Album Charts. With restrictions lifting, Toby is looking forward to touring with his band and has dates booked throughout 2022 in the UK, Europe and the USA. Toby has been a Gibson Artist since the age of ten and is endorsed by Blackstar Amplification and D'Addario Strings. He is currently working on a second album due for release in April.
Line Up
King Solomon Hicks
Toby Lee