DMP & Academy Events presents:
Måneskin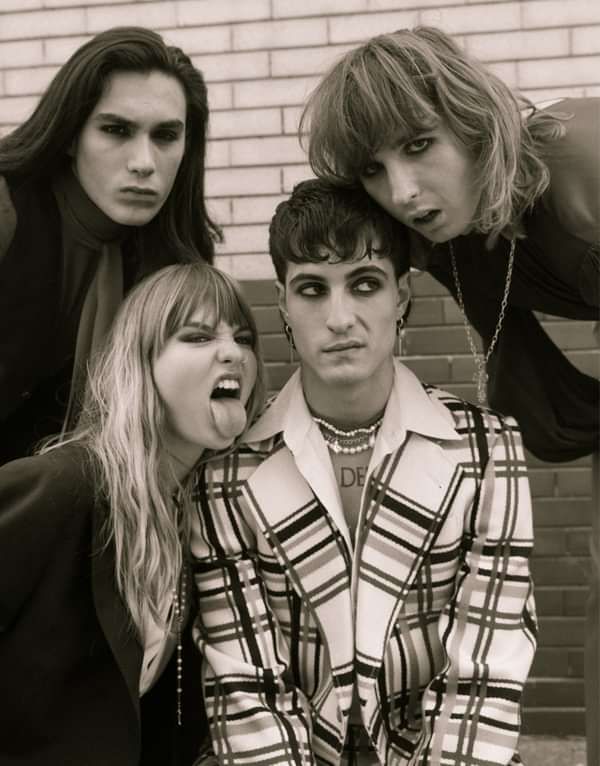 Måneskin postpone European tour
Due to the current state of events brought on by the ongoing COVID-19 pandemic, it is with deep regret that Måneskin has had to postpone their indoor European "LOUD KIDS ON TOUR '22" tour dates and the much anticipated Italian Indoor ArenasTour.
Ticket holders will receive an update on new dates before March 1st 2022.
Because of the concrete inability to perform in each country as per the tour schedule, since some countries are still dealing with pandemic-enforced restrictions, it has become difficult to resume events at the same scale and timeline as initially planned. The number one priority for Måneskin and Vivo Concerti is to guarantee the total safety of everyone, with determination to continue the tour that all patrons have been waiting eagerly for.
In a social media post announcing the tour's cancellation, Måneskin said:
"Hello guys, we're very sorry but we have to tell you that we have to postpone the whole tour because of the covid situation. We are extremely sorry. We worked a lot for this tour and everything was set and ready to go but unfortunately in the last few days we had some bad news about the capacity of the venues and all that kind of stuff.
We cannot guarantee all the gigs because every country has its own rules, and we have to stick to that, of course, because we have to do our gigs in total safety for everyone. We are really, really sorry and we hope to have the chance to tell you the new dates as soon as possible. Thank you for your patience and support, we are all together in this situation so we just have to hold on, but we will come back, we swear, and it's going to be even better. Okay guys, we love you!"
Tickets purchased for the 2022 tour dates remain valid for the new dates which will be announced in due course before March 1st 2022.
All outdoor shows including Verona, Circo Massimo and Lignano Sabbiadoro will go ahead as well as their appearances in all Festivals already announced. The dates to be rescheduled are as follows:
Sunday 6 February 2022 London, UK O2 Brixton Academy Thursday 10 February 2022 Brussels, Belgium Forest National Saturday 12 February 2022 Luxembourg, Luxembourg Rockhal Tuesday 15 February 2022 Warsaw, Poland Torwar Hall Friday 18 February 2022 Vienna, Austria Wiener Stadthalle Monday 21 February 2022 Paris, France Zenith Thursday 24 February 2022 Zürich, Switzerland Halle 622 Saturday 26 February 2022 Berlin, Germany Verti Music Hall Monday 28 February 2022 Prague, Czech Republic Malá Sportovní Hala Tuesday 1 March 2022 Budapest, Hungary Barba Negra Thursday 3 March 2022 Amsterdam, Netherlands AFAS Live Monday 7 March 2022 Kiev, Ukraine Stereo Plaza Wednesday 9 March 2022 Moscow, Russia Stadium Club Friday 11 March 2022 St Petersburg, Russia KSK Tinkoff Arena Sunday 13 March 2022 Tallinn, Estonia Saku Suurhall Monday 14 March 2022 Riga, Lettonia Arena Riga Friday 18 March 2022 Pesaro, Italy Vitrifrigo Arena Sunday 20 March 2022 Bologna, Italy Unipol Arena Tuesday 22 March 2022 Milan, Italy Mediolanum Forum Wednesday 23 March 2022 Milan, Italy Mediolanum Forum Saturday 26 March 2022 Naples, Italy PalaPartenope Sunday 27 March 2022 Naples, Italy PalaPartenope Thursday 31 March 2022 Florence, Italy Nelson Mandela Forum Friday 1 April 2022 Florence, Italy Nelson Mandela Forum Sunday 3 April 2022 Turin, Italy Pala Alpitour Tuesday 5 April 2022 Millan, Italy Mediolanum Forum Friday 8 April 2022 Bari, italy Palaflorio Tuesday 12 April 2022 Rome, Italy Palazzo dello sport Wednesday 13 April 2022 Rome, Italy Palazzo dello sport
Ticket holders are requested to retain their tickets. For further ticket inquiries, ticket holders should contact their original point of purchase.
For additional information please visit www.vivoconcerti.com.