The London Roots Festival presents:
The London African Gospel Choir Present The Bob Marley Songbook
EartH, London, GB
£22.50 Adv (+ Booking Fee)
Entry Requirements: 16+ (Under 18s with an adult)
Buy Tickets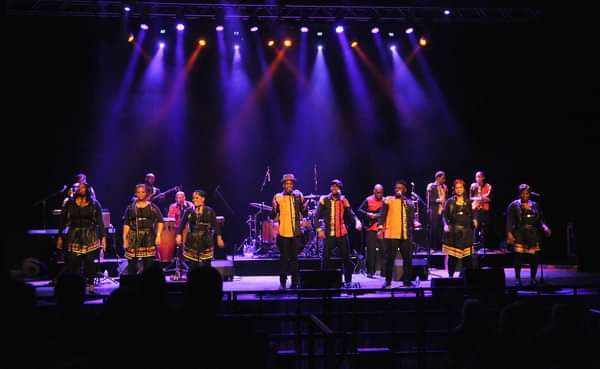 THE BOB MARLEY SONGBOOK LONDON HACKNEY EARTH FRIDAY 19TH NOVEMBER 2021
"There are golden moments that sometimes arise from seeing a performance for which you have little or no prior knowledge or experience, and this was one of them …" LATEST MAGAZINE
"The London African Gospel Choir are clearly onto something good, and the high expectations are more than matched by their performance …"** SONGLINES MAGAZINE**
The LONDON AFRICAN GOSPEL CHOIR follow their unique and critically acclaimed interpretation of Paul Simon's Graceland, which played to sold-out venues across the UK, Europe, and the USA, by embracing a new and invigorating challenge – the work of Bob Marley. The BOB MARLEY SONGBOOK will see his timeless redemption songs lovingly and skilfully reinterpreted by the talented and dedicated team of LAGC musicians and singers to create a stunning experience for their audiences to share.
The LAGC create performances that are truly special and innovative, revealing a platform of excellence for African singers and musicians living in Europe, and their interpretation of the Bob Marley songbook will live long in the hearts and the memories of those who witness it.
The LONDON AFRICAN GOSPEL CHOIR was born in the multi-cultural streets of SE London, where they developed their craft by presenting inspirational choral and musical arrangements from their collective and inclusive approach to music. They include members from South Africa, Zimbabwe, Ghana, Kenya, Zaire, Ivory Coast, Guadeloupe, Jamaica, Uganda, and the Congo with faith the common denominator.
They have performed extensively on stage and television with artists such as Emile Sande, Tom Jones, Mumford and Sons and the Soweto Gospel Choir, with whom they made an appearance at the London O2 Arena singing in front of 17,000 people. They were invited to perform with Annie Lennox at several prestigious events, including her reception at the MIT (Music Industry Trust) Awards, and the actor and director Idris Elba recruited them to compose and perform a song on his album celebrating South African music in tribute to Nelson Mandela.
At the heart of the LONDON AFRICAN GOSPEL CHOIR is an unyielding desire to promote a sense of unity, joy, and cultural integration. They have never asked for funding or donations yet have managed to build themselves into the structure of the British cultural landscape with integrity, passion, and truly outstanding work.
Line Up
The London African Gospel Choir Present The Bob Marley Songbook