The London Roots Festival presents:
Declan O'Rourke
Buy Tickets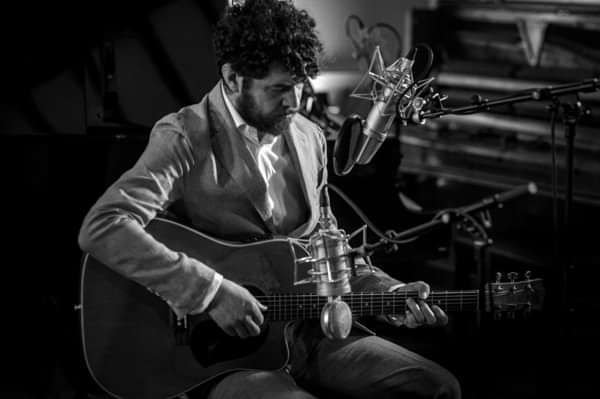 Declan O'Rourke Arrivals New Album out now on eastwest
"O'Rourke has become something of a songwriter's songwriter, whose supporters have numbered John Prine, James Taylor….if he's been a best-kept secret up to now ARRIVALS should finally blow his cover'" 8/10 Uncut magazine
"a masterful lyricist and staggering guitarist." 4**** MOJO
"the quintessential songwriter's songwriter" - Irish Times 4****
"It's an album that confirms his status as one of Ireland's finest songwriters and performers" - RnR 5*****
Award-wining Irish singer songwriter Declan O'Rourke returns after 2 years with his new Paul Weller-produced Arrivals, the most emotionally raw and affecting album of his career.
Recorded over six days at Black Barn studios in Surrey, with Weller producing ("he was there every moment, before, during and long after, discussing ideas about this and that, even down to the artwork. It was hugely impressive…"), Arrivals sees Declan O'Rourke present his art in a different yet wholly distinctive manner. The sound is stripped back to Declan's soulful and resonant voice, the virtuosic acoustic guitar playing for which he's renowned and only the occasional sparse arrangement of strings and late-night drums bringing colour and light to the LP's 10 songs. Weller, a fan of Declan's songwriting for some years, also adds his multi-instrumental abilities to the recordings, including a beautiful piano accompaniment to the closing track.
"Proffering reassurance in the face of inevitable sorrow" is what New York Times music writer Jon Pareles has said about Declan O'Rourke. Not many people would have thought that such praise would have so significant a purpose during a prolonged time of global turmoil, but - as his many admirers know only too well - O'Rourke has been spreading hope, love and emotional clarity for over 15 years.
From 2004's debut Since Kyabram to his forthcoming album, Arrivals (his seventh studio record, and his debut for eastwest records), the Galway-based artist's skills as a songwriter have been noticed and applauded by perfectionists such as John Prine and James Taylor. His songs have been covered by fellow artists, most notably his classic 2004 song "Galileo" which has been recorded by Eddi Reader and Josh Groban amongst others. His last album Chronicles Of The Great Irish Famine, documented rare first-hand accounts from that devastating period of Irish history and garnered numerous awards.
"Over time, I have found that being an artist is a process of stripping away layers of yourself in order to get to the core, to get to something that is pure and honest," says O'Rourke.
He has reached that with his latest batch of songs, yet he has also reached back to what inspired him, and entranced his listeners, when he first performed his songs in small venues. "I recently played Arrivals to a cousin of mine; she used to come and see me all the time in the early days when I'd play - just me and the guitar – at open mic nights. This album, she said, led her to feel that in many ways people were going to hear me for the first time. That made a lot of sense to me."
Arrivals deftly balances the personal and the political. The personal - it is assuredly his most emotive and intimate work to date - comes from O'Rourke's admission that he has always been guided by family.
"It's at the heart of everything for me," he acknowledges. "I know situations for some people are different, but for myself, family is the well, the source. When all is said and done, your family and those around you are the most important things in the world."
Emerging at a time when the world is in a phase of serious flux, Arrivals is also his most political and humanitarian. "We all feel very strongly about various aspects of what is happening in the world right now, and I don't know if I ever managed to speak my mind well about them before. I am fascinated by the past, either in a nostalgic way or through seeing how history has unfolded and what has been revealed. These times are so engaging, compelling, however, that I've been pulled into the present. It just happened and I'm glad I let it through."
Alongside a vision of seeing the personal and political run in parallel and occasionally intersect on Arrivals, is the way in which textural layers have been stripped away.
"I was probably a bit more impetuous early on in my career," O'Rourke explains. "You want to make something mature and evolved, so you naturally think you need to add things to make the end result sophisticated. The opposite is true, however. The more noise you add, the more you struggle to hear the space around you. That level of quietude has taken me a while to get in my recordings, but I think with Arrivals I have."
"I would like to think my writing is just a reflection of where I am at any given time," he reasons, "but I guess it's possible you get better at engaging with yourself and figuring out what you really want to say. I've always enjoyed the company of older people and been attracted to the wisdom and philosophies that are the gifts of age. I'm also used to hearing people, particularly artists, say that as they get older, they care less about what other people think, and that you just say whatever you want. I'm only 44 now, but I'm really gravitating towards that mindset."