DMP presents:
Michael Messer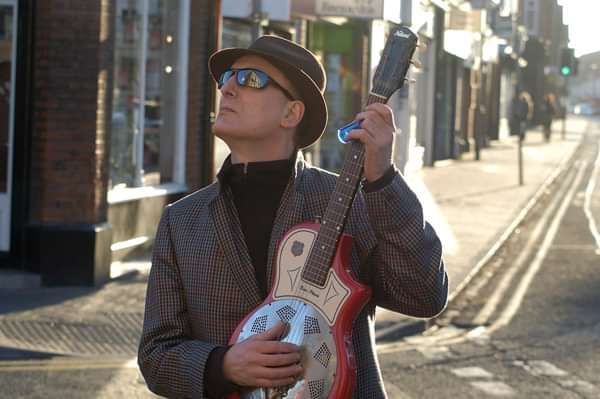 We are pleased to present virtuoso slide guitarist Michael Messer part of our Arts Council England supported shows this summer.
Socially Distanced show ** **Michael Messer is a virtuoso slide guitarist, singer and blues innovator. Among many accolades, the American magazine 'Spirit' listed Michael Messer as one of the greatest slide guitarists ever, alongside Duane Allman and Ry Cooder.
Throughout his forty year recording career, his music has remained individual and contemporary. Michael Messer's reputation as an innovator of the blues and master of slide guitar is well known. 
Being British with an international reputation for blues slide guitar is a rarity in itself, but Messer's obsessive appetite for knowledge of his art is virtually unrivalled. His stunning slide guitar playing and superb vocals ooze authenticity and integrity, and his use of turntables in the Second Mind Band marked him as one of the trailblazers of the 21st century blues sound.    His current band, Michael Messer's Mitra, is once again breaking new ground, playing an exhilarating and accessible fusion of rural blues and Hindustani classical music. Their highly acclaimed debut album, Call Of The Blues, was iTunes No1 blues album and has won them worldwide acclaim.
Johnny Cash was a fan of Michael Messer's music and wrote the liner notes for his 1993 album Rhythm Oil, a rare honour shared only with Bob Dylan on Nashville Skyline. Messer's King Guitar album reached number one in the US blues chart in 2001 and his album Second Mind won Best International Guitar Album of the Year.   Michael Messer has released ten albums, produced a few albums for other artists, toured worldwide, recorded numerous live radio/TV sessions, and appeared in his own 'blues' episode of BBC TV show, Zingzillas. He also has a successful line of MM guitar products, including Michael Messer guitars, Michael Messer guitar strings, and a series of guitar tuition DVDs.   For his solo performance in the Forge, Michael will be playing music from right across his forty year career and illustrating the music with stories about an extraordinary life in music.
Michael Messer's approach to his music isn't just idiosyncratic, it's a whole personal blues genre. Nigel Rose - BLUES MATTERS!
Moby eat your heart out. Second Mind is the best British blues album of the 21st century so far. What's On London
"Michael Messer is one of the most important bluesmen in Britain and mightily relevant throughout the blues world. He has progressed from being an excellent technician - on the National Steel especially, to being in the vanguard of the 21st century blues. A beautiful amalgam of history and foresight; musicality and grit; blues, boogie and beats - Second Mind is a work of near genius".  Joe Cushley
Messer is rare amongst Brit bluesniks, in that he possesses a real feel for the music and yet gives it his own personal stamp. fRoots
Not since the Beatles teamed up with Ravi Shankar back in the day has there been such an experimental and inspired meeting of musical cultures. I've no doubt this album is going to be internationally lauded for both its musicianship and Messer's stunning vision. This is an album of pure, sparkling, sublime originality. Music News USA
Moby eat your heart out. Second Mind is the best British blues album of the 21st century so far. What's On London