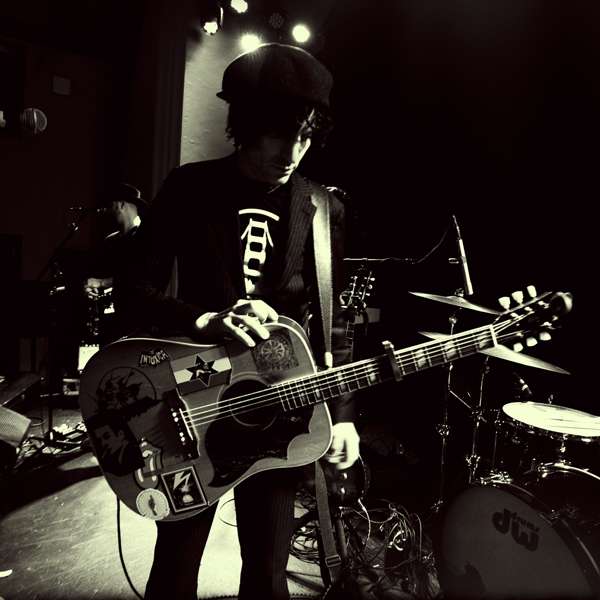 Jesse Malin is a songwriter, vocalist, and guitarist who has more than one musical personality, having made a name as a thoughtful and introspective singer/songwriter in his solo career as well as playing raucous, over the top rock & roll with the band D Generation, though heartfelt and street-smart songwriting is the common element in all of Malin's work. Always a punk with the heart of a poet, the likes of Neil Young, Tom Waits, and Steve Earle influenced his work.
Malin's debut solo The Fine Art of Self Destruction appeared in the U.K. in October 2002. The press quickly hailed it as one of the year's best, and he was nominated for the Shortlist Music Prize. Subsequent albums featured guest spots by Bruce Springsteen and Jakob Dylan, among others. The prolific Malin returned in 2017 with another studio effort, Meet Me at the End of the World.
Line Up
Jesse Malin
Tom moved to London in January 2013, and decided to really push his music career. Equipped with just a backpack and a guitar. He started playing wherever and whenever he could, sometimes up to 6 gigs a week, as well as holding down a restaurant job. In April 2013, he played a night hosted by stadium-fillers To Kill A King, then a couple of months later, he played with Glen Matlock of The Sex Pistols for a TV show.
The likes of Johnny Marr of The Smiths, John Squire of The Stone Roses and Mick Jones of The Clash (who recently filmed Tom performing with his phone) have since signed his guitar in support of his push, and it seems there is now a lot of anticipation in hearing Tom's first releases. Tom is a grafter, with a steel determination to succeed and a fantastic, strong, unique voice. His songs are quirky, catchy and commercial with a real raw and witty lyrical edge to them. He is charismatic, charming, and sees no boundaries to his potential success.
'Berlin': http://bit.ly/1tGPNDI 'Local Bike - Sofar Sound Session': http://bit.ly/1KsTl5n
http://www.facebook.com/TomBrightMusic http://www.tombright.co.uk/ http://twitter.com/tombrightmusic
View Profile