DMP presents:
Dave Alvin & Jimmie Dale Gilmore with The Guilty Ones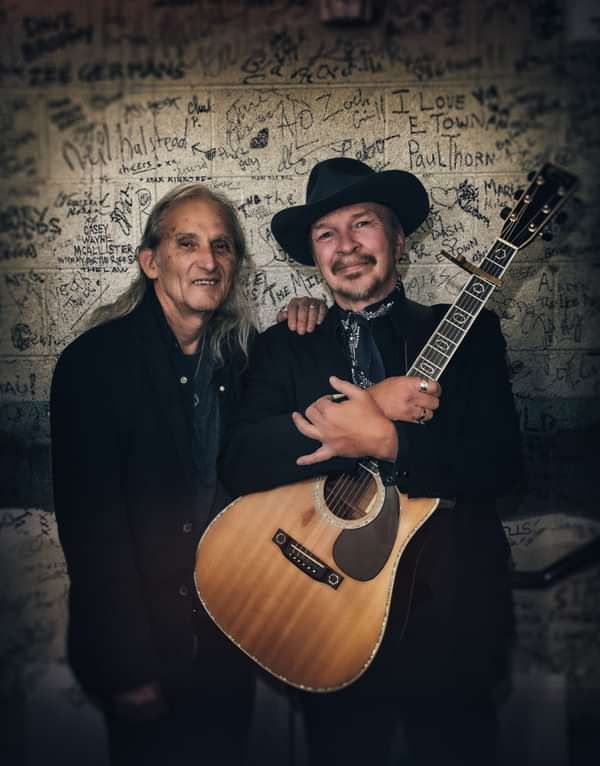 THE LONDON ROOTS FESTIVAL PRESENTS DAVE ALVIN & JIMMIE DALE GILMORE With The Guilty Ones Support from Roseanne Reid
Doors 7.00PM CURFEW 10.45 PM ALL AGES – UNDER 16S TO BE ACCOMPANIED BY AN ADULT
Downey, California to Lubbock, Texas is a thousand-mile straight shot across the heart of the American West, with not much in between. The cities at each end of the line are one-time cowtowns that grew into symmetrically-platted working-class communities with very little to interrupt the horizon plane, making for big empty canvasses that require a vivid imagination to fill in all that blank space.
Dave Alvin from Downey and Jimmie Dale Gilmore from Lubbock have been filling canvasses with music of the American West for decades, coming from two very different directions.
The title track explains Alvin is a Strat-packing, wild blues Blaster, a nod to the roots rock band he formed with his brother Phil in 1978 before Dave peeled off to go his own way in 1986. He's been part of the bands X, the Knitters, and the Flesh Eaters, tours relentlessly with his own band, the Guilty Ones, and continues apace on musical quests informed by his love of California and its history, and by Texas and the South, where most of the great music that was made in Los Angeles before and after the Second World War came from.
Gilmore is the old Flatlander from the Great High Plains, acknowledging his first group, the folk-country trio formed in Lubbock 1972 with Joe Ely and Butch Hancock who continue performing and recording today. In addition to the Flatlanders and an extended solo career, he has been part of several ensembles including the Hub City Movers and The Wronglers with Warren Hellman, who started the Hardly, Strictly Bluegrass Festival in San Francisco.
Alvin is a rowdy baritone. Gilmore, the timekeeper of the high lonesome, warbles. Each is an avatar, an authentic, original creator with a strong sense of place and music.
Line Up
Dave Alvin & Jimmie Dale Gilmore with The Guilty Ones