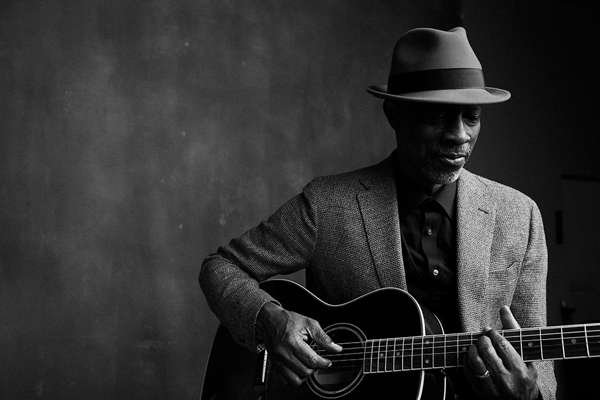 It all took off for Keb' Mo' twenty-five years ago with the self-titled release under his newly coined Keb' Mo' moniker, and over the years, he has proven that he is a musical force that defies typical genre labels. Album after album, 14 in total, Keb' has garnered 4 GRAMMY awards and a producer/engineer/artist GRAMMY Certificate for his track on the 2001 Country Album of the Year, Hank Williams Tribute – Timeless. He has received 11 GRAMMY nominations, in total, including Country Song of the Year for "I Hope," co-written with The Dixie Chicks, and three alone for his 2014 self-produced release, BLUESAmericana, including Americana Album of the Year. Keb' has also been awarded 11 Blues Foundation Awards and 6 BMI Awards for his work in TV & Film.
Over the past two decades, Keb' has cultivated a reputation as a modern master of American roots music through the understated excellence of his live and studio performances. Artists who have recorded his songs include B.B. King, Buddy Guy, the Dixie Chicks, Joe Cocker, Robert Palmer, Tom Jones, Melissa Manchester, Solomon Burke and the Zac Brown Band to name a few. The list of artist collaborations comprises a who's who in the music industry and includes Bonnie Raitt, Taj Mahal, Vince Gill, Amy Grant, Jackson Browne, Natalie Cole, Lyle Lovett, India Arie, James Cotton, Bobby Rush, Timothy B. Schmit, Marcus Miller and many more. His guitar playing has garnered him two invites to Eric Clapton's acclaimed Crossroads Festival and has inspired leading instrument makers, Gibson Brands, to issue the Keb' Mo' Signature Bluesmaster and Bluesmaster Royale acoustic guitars and Martin Guitars to issue the HD-28KM Keb' Mo' Limited Edition Signature model.
He has been featured in TV and film, playing Robert Johnson in the 1998 documentary "Can't You Hear The Wind Howl," appeared three times on the television series, "Touched By An Angel," and was the ghostly bluesman Possum in John Sayles' 2007 movie, "Honeydripper." Keb' created "Martha's Theme" for the TV show Martha Stewart Living. Keb' also wrote and performed the theme song for the hit sitcom, Mike & Molly, created by Chuck Lorre and was music composer for TNT's Memphis Beat starring Jason Lee. In early 2017, nine songs from Keb's extensive catalog were featured in the film Signed, Sealed, Delivered: Higher Ground on the Hallmark Movies and Mysteries channel. This film was also Keb's first feature film lead acting role. He also appears in an episode on the CMT series "Sun Records" as Howlin' Wolf and can be heard playing his original song "Operator." Keb' has played his iconic version of "America The Beautiful" in the series finale of Aaron Sorkin's "The West Wing," as well as at the actual White House for President Obama.
Keb' Mo' has been a long-time supporter of the Playing For Change Foundation (PFCF), a nonprofit organization that creates positive change through music education. PFCF provides free music education to children in nine countries, including Brazil, Bangladesh, Ghana, Mali, Nepal, Rwanda, South Africa and the United States, and has established 12 music schools around the world. They also work with partners to address basic needs in the communities where they teach, including providing education, clean water, food, medicines, clothing, books, and school supplies.
Additionally, Keb' is a celebrity mentor with the Kennedy Center's Turnaround Arts program, which focuses on elementary and middle schools throughout the US. This highly successful program began under the guidance of Michelle Obama and the President's Committee for the Arts and Humanities. Each artist adopts a school and becomes a mentor, working with teachers, students, parents, and the community to help build a successful arts education program. Keb' enjoys his mentorship at The Johnson School of Excellence in Chicago, Illinois.
In 2017, Keb' Mo' released TajMo, a collaborative album with the legendary Taj Mahal. The multi-generational duo went on to tour the US and Europe in support of their album; which has since earned a GRAMMY Award for Best Contemporary Blues Album.
Line Up
Keb' Mo'
"I'm ready to make a bigger noise…...Muddy Waters invented electricity right?"
In 2019 British guitarist and songwriter Martin Harley is making a change. Having created a deep impression on the acoustic blues roots and Americana scene with his last two Nashville recorded albums, his highly anticipated new record finds a new and exciting sound. An Intimate and gritty analogue album, recorded in a remote chapel deep in the wilds of Pembrokeshire. Taking county blues riffs to the electric bottleneck slide guitar, served with sweet vocal harmonies over the driving rhythms of co producer and drummer Harry Harding (Yola Carter/William the Conquerer) Award winning Australian bassist Rex Horan finalises the line up. He has recorded and performed with Eric Clapton, Van Morrison and Laura Marling.
Through Harley's road worn songwriting style this record explores hopes and fears for fast changing times, offering gospel like comfort and consolation. The song 'Roll with the Punches' implores the listener not to get dragged down when challenges seem unsurmountable. 'Coming Home' asks questions beyond the end of life and ruminates on freedom from worldly desires.
If success can be measured by growing global demand to attend Martins dynamic life performances then perhaps his touring schedule is proof of that. (He recently played to full house at the Union Chapel in Islington and has appeared at Edmonton, Vancouver, Canmore and Calgary folk festivals in Canada, Glastonbury, Bestival, Beautiful days in the UK, numerous European and US tours and events including the AMAs, The Bluebird in Nashville and Tønder in Denmark) In 2018 Total guitar ranked him #16 in the worlds greatest acoustic guitarist poll and he was nominated as Instrumentalist of the year at the Americana music awards.
"Harley offers the listener a masterclass in taste, style and roots blues" – Guitarist Magazine
"No doubt that he is a slide guitar master. He is the business" – Roots Magazine
"Spellbinding" – The Guardian
"Quite simply a great live act" – Time Out London
View Profile