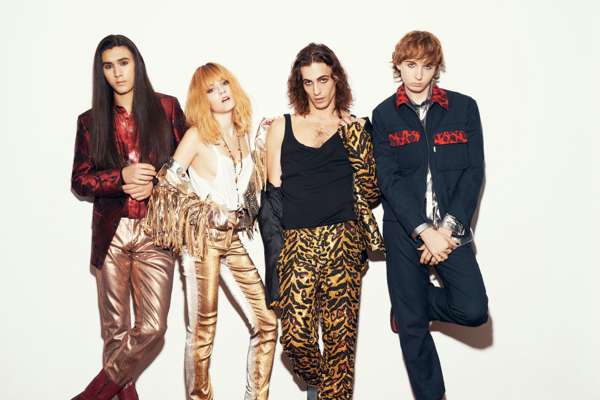 MANESKIN
November 14th, 2018 - After the release of their new album "IL BALLO DELLA VITA", which debuted at number 1 of the Fimi/Gfk Italian chart, with 4 singles in the top ten, obtaining the gold certification in just one week, and after the start of the autumn tour with all the 15 concerts sold out in the most important Italian clubs, Måneskin announces today their first European tour. From February 2019, it will see them protagonists on the stages of Spain, Switzerland, France, Belgium, England and Germany.
The band's natural international vocation finds its perfect place on the stages of cities like Barcelona, Madrid, Paris, Zurich, Berne, Hamburg, Stuttgart, Brussels, London, Munich and Lugano, where Måneskin will perform an unmissable show to present "IL BALLO DELLA VITA" (October 26, 2018, Sony Music), the album certified golden record in a single week that, in less than two hours from its release, reached the first position of the iTunes chart and, in a single day from the publication, entered Spotify TOP 50 with all its songs, racking up 1 million streams in less than 24 hours.
Måneskin have already performed in Europe in June 2018 with two live concerts on the stage of some of the most important international music festivals: the Hurricane Festival in Scheeßel (Germany) and O Son Do Camiño in Santiago de Compostela (Spain), which hosted international artists as Jamiroquai, Lenny Kravitz, Martin Garrix, The Killers and Franz Ferdinand. In addition to this, last September the band joined the extraordinary line up of "Milano Rocks", opening the concert of Imagine Dragons with a memorable performance in the pouring rain in front of over 60,000 people, which will remain in the history of the group.
On November, 10th Måneskin have begun to play in Italy for the first part of their sold out tour, named "IL BALLO DELLA VITA TOUR" (Vivo Concerti) in the Italian clubs of Senigallia (AN) (10/11), Florence (14/11 and 12/12), Padua (15/11), Bologna (17 and 18/11), Milan (23, 24/11 and 20/12), Bari (30/11), Naples (1/12), Brescia (6/12), Turin (9/12), Rome (14 and 15/12).
From March, 7th to April, 7th Måneskin will play live again for 10 new live shows in the biggest Italian cities.
The beloved group continues to collect success and many recognitions, starting from the countless sold out concerts to certifications: a platinum record in just one month from the release of "Torna a casa", new unpublished in Italian, which debuted at #1 of the official Italian FIMI/GfK chart and has maintained its position for five consecutive weeks. Double platinum record for the song "Chosen", a platinum for the namesake debut EP, two platinum certifications for the first single in Italian released in March 2018, "Morirò da re". Noteworthy are the digital numbers too: over 80.9 million views on YouTube, more than 104.4 million streaming on Spotify.
ABOUT MÅNESKIN Måneskin is an Italian band made up of four guys aged from 17 to 19: Damiano (vocals), Victoria (bass), Thomas (guitar) and Ethan (drums). Måneskin means "moonlight" in Danish, the name is a tribute to the bassist's origin. Group members have known each other since middle school, but they started playing together only in 2015. Their sound is marked by different musical influences: a mix of rock, rap/hip hop, reggae, funky and pop, tied together by the soul voice of the frontman Damiano. The band's look clearly reflects all these influences thanks to the refined taste unique to each member. During XFactor 11 Italy live shows, the young artists stood out and struck the audience, showing an incredible mastery of the stage, which is outstanding given the very young age. "Chosen", their first single, presented during the show, has reached millions of streaming and views and has been certified double platinum record. "Chosen" is also the name of their debut EP, published in December 2017 by Sony Music and produced by Lucio Fabbri, which was certified platinum only two months after its release. In a few hours, Måneskin literally sold out all the 21 dates of their first tour (February/April 2018) produced by Vivo Concerti. On March, 23rd the band released the new single "Morirò da Re" (double platinum record), followed by "Torna a casa" (platinum record). The songs anticipate the new album "Il ballo della vita", published on October, 26th 2018 and certified gold record in a single week, which debuted at #1 of the FIMI/Gfk ranking, the Italian tour that has started on November, 10th from Senigallia, the upcoming concerts in Europe in February 2019 and the new lives in March 2019.