DMP & Communion presents:
Jerron 'Blind Boy' Paxton
+ Ferris & Sylvester
Union Chapel, London, GB
£22.50 Adv (+ Booking Fee)
Entry Requirements: All Ages- Under 16's To Be Accompanied By An Adult
Buy Tickets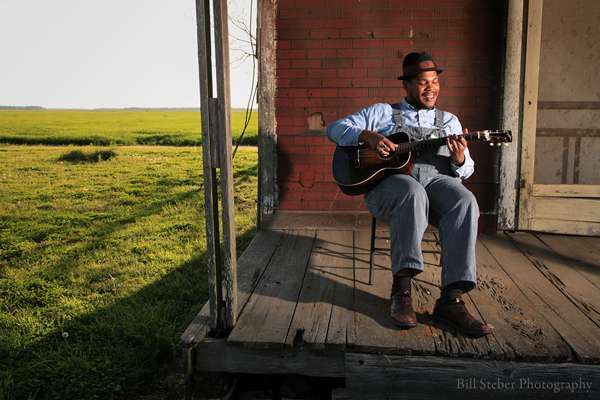 Although still in his 20s, Jerron "Blind Boy" Paxton has earned a reputation for transporting audiences back to the 1920's and making them wish they could stay there for good. Blind Boy Paxton may be one of the greatest multi-instrumentalists that you have not heard of. Yet. And time is getting short, fast. Jerron performed to a sold out audience at the Lead Belly Tribute at Carnegie Hall on February 4, 2016 along with Buddy Guy, Eric Burdon, Edgar Winter, Kenny Wayne Shepherd, and other stars. It is no exaggeration to say that Paxton made a huge impression. In the two years since his incredible performance at that star-studded show in one of the world's great concert houses, Paxton's own star has been rising fast. He opened for Buddy Guy at B.B. Kings in NYC; for Robert Cray at the Reading PA Blues Festival, and performed at numerous other festivals including: Woodford Folk Festival & Byron Bay Blues Festival in Australia; Calgary Folk Festival in Canada; Jewel City Jam in Huntington WV; Freihofers Jazz Festival in Saratoga Springs FL; Clearwater Festival in Croton-on-The Hudson NY; Fayetteville Roots Festival in Fayetteville AR: Cambridge Folk Festival in the UK., Harvest Time Rhythm & Blues Festival in Ireland; and headlined the 2017 Brooklyn Folk Festival. Jerron Paxton is a two-time participant in the Keeping The Blues Alive Cruise and is the new Artistic Director of the Port Townsend Acoustic Blues Festival & Workshop at Centrum in Port Townsend, WA. Paxton was featured on CNN's Great Big Story and appeared in the multi award winning music documentary AMERICAN EPIC produced by Robert Redford, Jack White & T-Bone Burnett. In October and November 2018 Jerron 'Blind Boy' Paxton will be touring the U.S. with the musicians from this groundbreaking AMERICAN EPIC SESSIONS music documentary. This young musician sings and plays banjo, guitar, piano, fiddle, harmonica, Cajun accordion, and the bones (percussion). Paxton has an eerie ability to transform traditional jazz, blues, folk, and country into the here and now, and make it real. In addition, he mesmerizes audiences with his humor and storytelling. He's a world-class talent and a uniquely colorful character that has been on the cover of Living Blues Magazine and the Village Voice, and has been interviewed on FOX News. Paxton's sound is influenced by the likes of Fats Waller and "Blind" Lemon Jefferson. According to Will Friedwald in the Wall Street Journal, Paxton is "virtually the only music-maker of his generation—playing guitar, banjo, piano and violin, among other implements—to fully assimilate the blues idiom of the 1920s and '30s."
Line Up
Jerron 'Blind Boy' Paxton
'Here's the thing: They played to nine people and a dog with charm and gusto, as if they were playing to thousands, like it was the most important gig they had done. That's how you know they're in it for the right reasons — they love making music, they have something to say, and they want you to hear it.'
They are songwriters - their hearts and souls put to rhythm. With clear references in their catchy folk setup to the mid-60s sounds of Greenwich Village combined with their meatier blues tones, Ferris & Sylvester sit somewhere between Jack White & First Aid Kit. Their clever combination of Sylvester's blues influence & Ferris' soul tone has created a distinctive genre of their own.
The London-based pair met just over two years ago and have since won over the capital with their ever-growing live presence and songwriting. In 2016, Ferris & Sylvester's thoughtfully crafted writing caught the ear of legendary producer Youth (Paul McCartney/The Verve/ Crowded House). The pair recorded with Youth in his Space Mountain Studios, Spain.
Earlier this year, F&S released their highly anticipated second EP 'Made In Streatham' which the duo self-produced in their South London flat. Released through their own label 'Archtop Records', the EP has clocked up over 2 million Spotify streams, rose to No.1 on the iTunes Singer-Songwriter chart and received widespread praise across the board.
Currently recording their next project and soaring through a summer packed with live dates, there is plenty more to come from Ferris & Sylvester.
The future is bright.
'A masterpiece of Brit Folk that should already have made them household names.' - Mojo Magazine
'A rich and fully realised sound that leaves one pining for a full-length.' – Rolling Stone Magazine
'Alt Simon & Garfunkel: dreamy pop with spiky sentiments' - The Guardian
'Harmonies & grounded tones that seem like they were born together.' - BBC Introducing
'Something very special indeed.' - Ricky Ross, BBC Radio Scotland
'On the brink of striking gold.' - Acoustic Magazine
---
Follow us on Spotify:
View Profile