The London Roots Festival presents:
The London African Gospel Choir Perform Paul Simon's Graceland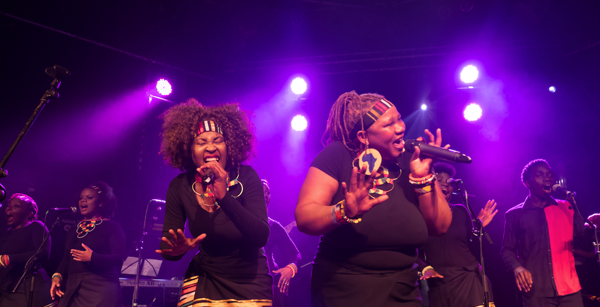 "Best gig of Kendal Calling? Almost certainly. Instead of The Coral in a heaving Calling Out tent or Tinie Tempah on the main stage, for closure I choose the London African Gospel Choir performing Paul Simon's Graceland on the Woodlands stage."
theartsdesk.com
Paul Simon's Graceland performed in full by The London African Gospel Choir, the show has been critically acclaimed across the country.
An uplifting and amazing show which sells out every venue and receives rave reviews from the audiences.
Thirty years after its release, the London African Gospel Choir, perform their own powerful
twist on Paul Simon's 'Graceland' album, delivering from start to finish.
The richness & harmony of the Choir's rhythmic, evocative & empowering, voices have created an overwhelming musical event, for anyone lucky enough to experience this special performance of Paul Simon's Graceland, this is what they say:
"The most uplifting, energising evening I've had in years".
"So many great songs so beautifully performed with so much energy and so many happy
smiles"
After coming across a bootleg cassette of South African township music in the early 80s, Paul Simon was totally smitten by the infectious & irresistible rhythms… He travelled to Johannesburg, spending two weeks there, recording with the absolute cream of South African musicians.
That epic session, went on to form the basis of Simon's most commercially successful album ever – Graceland. The record became a true global phenomenon, winning Grammys in both 1987 & 88, shifting 5 million copies Stateside & then another 2.5 million copies in the UK alone. The Graceland album spawned the hit singles, 'Diamonds on the Soles of Her Shoes', 'The Boy in the Bubble' & it's biggest smash – 'You Can Call Me Al.'
Line Up
The London African Gospel Choir Perform Paul Simon's Graceland