DMP presents:
Delgres
+ Dana Immanuel & the Stolen Band
Buy Tickets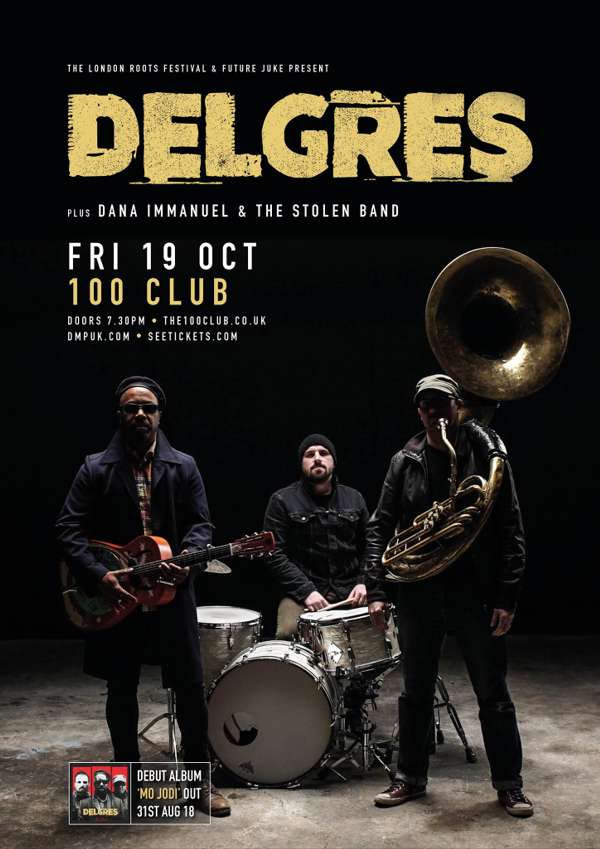 Fresh from their recent sojourn to these shores – they played two shows at The Great Escape to a rapturous crowd - and newly signed to [PIAS], Delgres are a trio hailing from the Leeward Islands, more specifically Guadeloupe and are pleased to announce details of their new album Mo Jodi on August 31st through [PIAS].
Today they share the video for new track Can't Let You Go, its visual narrative conveyed via playing cards and musically encapsulating the album's ethos - raw, emotive blues culled from a long lineage unfurling into something Delgres make their own. As the band explain, "in this song we move closer to the core subject of the album, that of working with the cards you're dealt. The lyrics are a reflection on how Napoleonic slaves, freedom fighters of Guadeloupe, managed in the great poker game, sacrificing their personal feelings to the cause. "I don't want you to go and fight but I know you have to.Good hand, bad hand, who deals the cards?"
Fronted by Pascal Danaë and complemented by drummer Baptiste Brondy and sousaphone player Rafgee, they loosely describe themselves as a blues trio. Traversing a myriad of sounds and influences they meld their own route via their cultural, historical and emotional roots - the missing link between French, Caribbean and US musical culture - that arrives amidst Ali Farka, Creole and the Black Keys to create their own exhilarating brand of bluesy, garage-rock.
Inspired by and from where they take their name - the influential figure of Louis Delgres who was instrumental in the fight against colonial slavery looms large on the album - title track, Mo Jodi (I'll Die Today) is a tribute to his fight. Anchored in history, the resultant album is a brilliant representation of their own personal journey, the music both in broader terms and closer to home is a portrayal of rootlessness, struggles and exasperation that exists still to this day just on another page.
An absorbing musical adventure, emotive and powerful, Mo Jodi revels in its instrumentation to provide an invigorating collection of songs that is a wonderful entry into the world of Delgres.
Released on August 31st through [PIAS], Mo Jodi is available on double vinyl, CD and digitally on pre-order here
Support on the night comes from Dana Immanuel and the Stolen Band,a banjo-whacking, guitar-shredding, fiddle-sawing, foot-stomping, whiskey-soaked, all-female assault on the senses. Since 2014, this London-based ladyband have been delighting diverse crowds spanning the blues, rock, Americana, indie, folk and country scenes with their high-energy live show and utterly unique brand of musical badassery.
Line Up
Delgres
Dana Immanuel is a banjo-toting, whiskey-drinking, poker-playing singer-songwriter currently operating from a north London hideout from which emerges a sound more usually associated with the bayou, triple filtered through bourbon, washboard, electric guitar and a touch of alt-country eccentricity. With the all-girl Stolen Band, Dana has been getting feet stomping across the UK folk, blues, Americana and rock scenes. Having been Classically trained at Oxford (she studied Latin, Greek and Philosophy, with a self-taught minor in guitar playing and country music appreciation), Dana set out to live the dream; she became a professional busker on the icon that is the London Underground. These formative years produced her debut album Character Assassination, a unique blend of folk, blues, old-fashioned jazz and Americana overlaid with lyrics featuring a surfeit of wit and a lack of punches pulled. A long stint working in the gambler's demi monde that is the poker industry contributed not insignificantly to the lyrical content of her second album, Dotted Lines, released in 2015. Dana's music reflects her eclectic influences, from Alice Cooper to Hank Williams, routed via the bluegrass turnpike around the township of alt-country. She is at home in the high-stakes casinos of Monte Carlo as in the basement bars of London, Paris and Amsterdam, and her live show with the Stolen Band is not to be missed - watch out for the new album from Dana Immanuel & the Stolen Band, scheduled for release in 2016.
View Profile