DMP presents:
Tom Pointer
+ Alex Dobson + Oktoba
Buy Tickets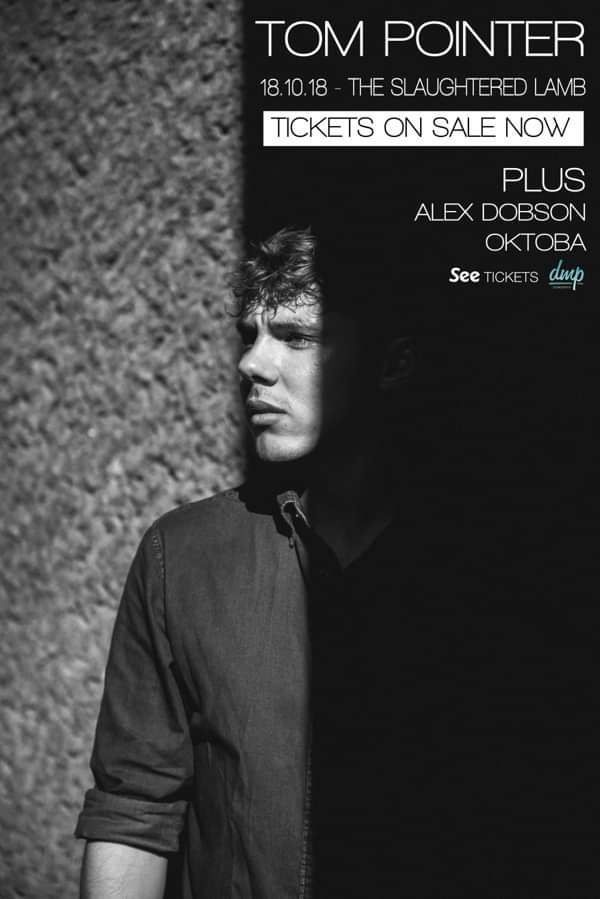 From professional rugby player to soulful pop artist, U.K. based singer-songwriter, Tom Pointer prides himself on his live performance with honest lyrics and vibrant pop melodies, reminiscent of James Bay & Paolo Nutini.
Tom's retirement from professional rugby in 2014, due to a broken back, proved to be a significant turning point and sparked his inner creativity.
Fast forward 4 years, Tom Pointer returns with his 3rd single release '24 Hours'.
"24 Hours is a song about patience" Tom expresses.
The release closely follows his sold-out April 2018 headline show at the Servant Jazz Quarters, London in support of his 2nd single release, "Nobody" which featured on New Music Friday Germany, Switzerland & Austria.
Tom dives deeper into the meaning of his latest release '24 hours':
"We all want things to last longer or happen quicker than they do, no amount of time can ever be perfect. We all need to exercise a bit of patience and enjoy life in the moment, not wish for it to end or last forever. A few years ago, this was my biggest problem, so I wrote down the lyrics to help myself from wishing the time away."
"The chorus contains a simple message, not to waste 24 hours, every day needs to be lived to the full."
'24 Hours' is available to stream or download.
Support on the night comes from Alex Dobson & Oktoba.
Line Up
Tom Pointer
Alex Dobson
Oktoba is the project of alt folk, singer songwriter Chris Athorne. Honest story telling with an emotive deliverance leaves live audiences captivated with his tales of love and life.
The past year and up to now has seen Chris perform at Latitude on The Lake Stage stage for BBC Introducing, The Secret Garden Party, The Great Escape, Together The People and LeeFest festivals. Whilst also touring around the UK and the United States. Where he played shows at The Rockwood Music Hall in New York and performed for Sofar Sounds in Chicago.
Oktoba's debut album received incredible reviews from all around the world including write ups from The Huffington Post, Groundsounds (USA), The AU review (Australia) and Indiemusic (France). Since the records' release in Autumn 2015 tracks 'Run', 'Tongue Tied' and 'Smoke Signals' have been featured throughout BBC introducing on BBC Radio 2's Bob Harris show and also being chosen twice as BBC introducing South's Track of the Day.
'BBC Radio 2, Bob Harris' "You'll really enjoy it..it's wonderful"
'The Huffington Post, Jane Ireland' "I listened to it three times straight off. By the third time, I was singing along. It's very good. » http://www.huffingtonpost.co.uk/jane-ireland/musical-smoke-signals-from-octoba_b_8630596.html
'BBC Introducing, Graeme Mac' "His debut solo album, Smoke Signals, which was released in October, is as magical as the best images and tastes that the month itself can conjure up" http://www.grapevinelive.co.uk/2016/01/04/essential-listening/
'The Unsigned Guide: Spotlight'
http://members.theunsignedguide.com/blog/600
View Profile