DMP presents:
Future Juke: A 21st Century Blues Festival * Eli 'Paperboy' Reed With The High & Mighty Brass Band
+ Marcus Bonfanti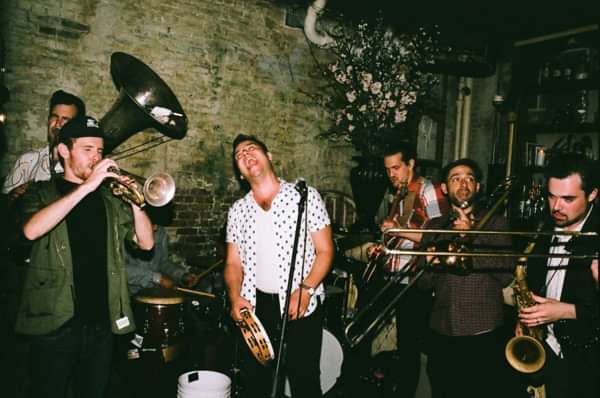 Eli Paperboy Reed meets High and Mighty Brass Band
The collaboration between Soul shouter Eli Paperboy Reed and the 10 piece bombastic fury that is High & Mighty Brass Band was a long time coming. From the first time that Reed joined High & Mighty on stage it was clear that the combination was special. Reed's powerful wailing over the top of a 10 piece brass band complete with tuba, two drummers, trombones and trumpets was a sound that had never been heard before.
After several high-profile shows together in Brooklyn, NY and Las Vegas, NV, it became abundantly clear that The Paperboy and The Brass Band needed to meet in the recording studio. Over the course of three days in July of 2017, they recorded 11 tracks, all live to reel-to-reel tape. The selections include radical brass-band rearrangements of some of Reed's Soul classics ("Come and Get It", "WooHoo", "Take My Love With You"), covers (Beyonce's "Love on Top") and a brand new Reed composition written specifically for this LP ("As I Live and Breathe."
The finished product, Eli Paperboy Reed meets High & Mighty Brass Band, showcases the strengths of both performers. The sheer power and dynamic interplay of the High & Mighty horns coupled with the aggressive, exciting and preeminently soulful singing of Reed has to be heard to be believed. Drop the needle on EPR meets HMBB and you won't be able to keep stop your feet from moving and your hands from clapping. Eli "Paperboy" Reed and High & Mighty Brass Band are on fire!
Line Up
Future Juke: A 21st Century Blues Festival * Eli 'Paperboy' Reed With The High & Mighty Brass Band
From the first note of Led Zeppelin's "Black Dog" sixteen-year-old Marcus Bonfanti knew he wanted to be a guitar player.
After spending his youth as a trumpet player in brass bands, working 12 hours a day in a kitchen to buy his first guitar, dropping out of a prestigious Music College and touring the world with different artists for almost 10 years as a session player Bonfanti has become the sum of all the great music he was exposed to as a young boy growing up in North London.
Since releasing his first full length album in 2008 his solo career has gone from strength to strength and seen him tour with and open shows for Robert Cray, Chuck Berry, Shuggie Otis, Philip Sayce, Jack Bruce, The Straits, Beth Hart, John Mayall, Beth Rowley and JJ Grey.
He also fronts The Ronnie Scott's Blues Explosion; a monthly residency held at London's prestigious venue and has worked as a sideman for PP Arnold, Ginger Baker, Earl Thomas, Joe Louis Walker, Robbie Macintosh, Hamish Stuart, Mark Feltham, Eric Burdon and Buddy Whittington. In 2014 Marcus was asked to join and front legendary British Rock & Roll band "Ten Years After" and will be touring and recording with them alongside his own solo career.
His 2008 debut album, 'Hard Times,' set the scene and sent some subtly effective messages about a new British voice demanding to be heard. 2010's 'What Good Am I To You' (Listed in Classic Rock Magazine's top 50 albums of 2010 & Single "Give Me Your Cash" top 40 songs of 2010) made good on all those promises. The critical acclaim that both albums received earned him the 2012 British Blues Award for Best Songwriter and the 2013 & 2014 Award for Best Acoustic performer as well as nominations in Guitarist, Vocalist & Album categories for the last four years.
"Shake The Walls", released in June 2013, was listed in Classic Rock Magazines' top 5 Blues Albums of the year as well as getting airplay on BBC Radio 2 and 6Music and much critical acclaim in the music press and national newspapers.
View Profile