DMP presents:
The London Folk & Roots Festival * Wesley Stace's Cabinet of Wonders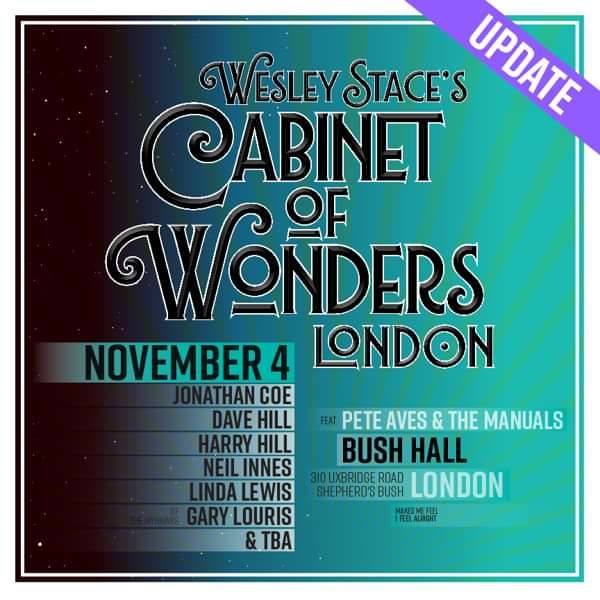 WESLEY STACE'S CABINET OF WONDERS will make its triumphant return to London at Bush Hall, W12 on the evening of November 4th, 2017.
November 4 Jonathan Coe Dave Hill Harry Hill Neil Innes Linda Lewis Gary Louris (The Jayhawks) Sean Nelson   The Greatest British & American writers, comedians, musicians and composers rub alphabetical shoulders with bespoke American imports, need no introduction: Award-winning authors Jonathan Coe + beloved comedians Harry Hill and Dave Hill.   As well as a wild variety of great music:  The Rutles and fifth Python Neil Innes; from legendary British soul singer Linda Lewis to Gary Louris of influential American alternative country band, The Jayhawks, flying in especially.Pete Aves & The Manuals - the guitarist from The High Llamas provides the house band. MC Wesley Stace - This Sussex-born "renaissance man" (The New Yorker) bestrides the literary and musical worlds like a slightly camp colossus. His new album, recorded with alt-country legends The Jayhawks was released by Yep Roc in February of this year.
"The Cabinet began as a way of bringing together my writer friends who often envy my musician friends with my musician friends who sometimes envy my writer friends and the comedians who generally envy - and are envied by - both of them", Stace explains. "Basically, it's only things I love. You can have your own show, and this is mine. Over the years the shows have established a convivial atmosphere all of their own - Harry Hill likened it to the Alternative Cabaret of our youth - and I can't wait to bring that mood back to London."
"One of the finest nights of entertainment this city has to offer"— The New Yorker
"A brilliant evening"— Village Voice
"A deeply transcendent experience"— Magnet
Line Up
The London Folk & Roots Festival * Wesley Stace's Cabinet of Wonders